Music in Hospitals & Care singer and guitarist Charlie Gorman runs Music Jam, a specially-created live music experience for people who have mental health problems, in The Hive café at Royal Edinburgh Hospital.
Music Jam gives people who are often feeling powerless the chance to express themselves and play us their favourite song. It's a wonderful opportunity to get to know patient's characters and personalities, which, hopefully, rebuilds their identity and recovery.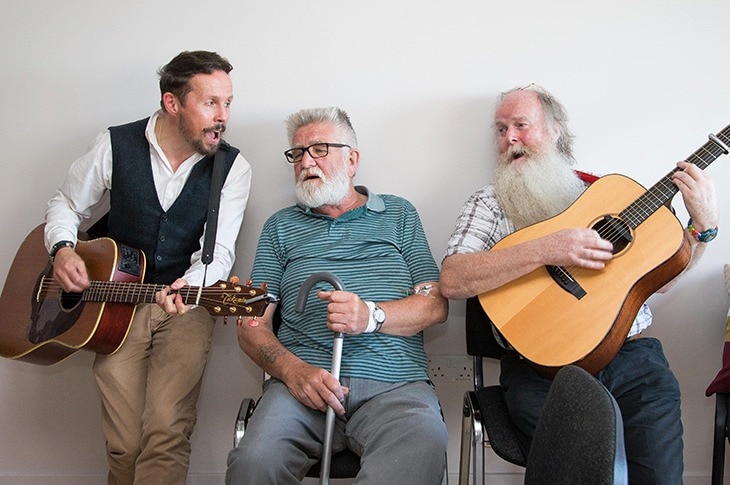 "I've seen how valuable and therapeutic participation in music can be to both people's body and mind," says Charlie. "It's like a weight has been lifted off their shoulders when people make the brave decision to get up on stage and play an instrument. Or sing a song in front of their friends and other audience members."
Charlie has seen people make this decision every week at Music Jam at The Hive. Charlie and people from the Royal Edinburgh Hospital sit in a circle of chairs and together create a live music experience that they are all part of. Encouraged by Charlie, some people play instruments and others sing.
"Many who visit The Hive for the first time are often hindered by low self-esteem," says Charlie. "They tend to be very subdued and physically hunched from a real lack of self-confidence. The sessions help them become visibly more confident, walk taller and come alive. Performers want to sing or play again and again."
Health and care staff say the live music helps the people they work with have a sense of control and involvement.
Jennifer Learmonth, Assistant Activities Worker at The Hive, says Music Jam is one of its busiest activities and is loved by everyone who attends. "There are a few people who come every week and the buzz they get from singing with Charlie is so inspiring to watch. Their faces really do brighten up after they have sung something. They are always so proud of themselves, and rightfully so. The group is always so supportive of each other on Charlie's lead. It gives people who are often feeling powerless the chance to express themselves and play us their favourite song. It's also a wonderful opportunity to get to know patients' characters and personalities, which, hopefully, rebuilds their identity and recovery."
Charlie says he genuinely believe Music Jam can help people back to better health too. He says:  "Through a boost in confidence and self-worth, it gives people the initial platform to gain the strength to move on to the next step in their recovery."