Our Lullaby Hour sessions provide gentle songs and melodies for poorly babies and children in hospital wards, neonatal units and hospices. Professional musicians sing and play for young patients, to help bring a sense of calm and relaxation. The soothing music is a wonderful way to reach out to children and their families by creating special moments at these very difficult times.
Lullaby Hour has won a national Innovation Award from the ScottishPower Foundation, along with a grant to help roll out Lullaby Hour sessions to more hospitals across the UK.
BBC News at Newcastle Freeman Hospital
STV News at Aberdeen Maternity Hospital
Lullaby Hour songbook
We have produced the 'Sweet Dreams – A Collection of Traditional Lullabies' songbook and CD to accompany the music sessions. Please visit our Lullaby Hour songbook page, where you can listen and download the tracks and songbook.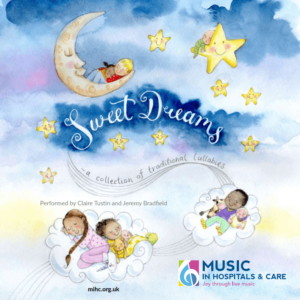 "Charlie is now thriving since he received his new heart earlier this year. I know that Lullaby Hour was a beautiful and welcome distraction to the sounds and strange noises coming from the machinery on the wards, and helped with his recovery. The lullabies gave everyone great comfort and a sense of peace. Charlie's riveted little face, when Claire sang to him, was wonderful to see in what were some of his darkest hours."
– Kate, Charlie's Auntie