If you're someone to whom music has given pleasure, stirred emotions and memories, or given a sense of wellbeing, we need your support now more than ever to ensure we can continue to provide these special moments for people. No matter how large or small, a gift in a Will is especially valuable to those who will benefit from the joy of live music in the future, as it helps us ensure we can continue to develop music sessions across the UK.
If you would like more information on how to remember Music in Hospitals & Care in your Will, please get in touch:
Emily Honey
Head of Fundraising & Communications
07494 986878
emilyh@mihc.org.uk
Music in Hospitals & Care is a registered charity in England and Wales: 1051659 and in Scotland: SC038864
Registered address: Unit 40, Enterprise House, 44-46 Terrace Road, Walton-on-Thames, Surrey KT12 2SD
Music in Hospitals & Care works in partnership with Jones Whyte to offer legal services such as a Will writing and Will review. On using the service you will be asked to consider leaving a donation for Music in Hospitals & Care, but you are under no obligation to do so.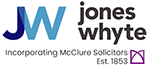 Please get in touch to find out more about the partnership.