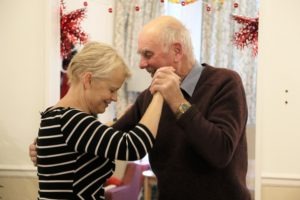 "Music is worthwhile even if it only brightens someone's day for a moment"
Thousands of people in hospital or care will have no music this Christmas  
Help us to bring the joy of live music to older people living in care over the festive season, sometimes without friends and family to visit them. We aim to reduce the loneliness and isolation that can be felt for those living on their own or in care. You can make their festive season brighter and musical this year. Donate now to deliver the gift of live music this Christmas and sing in the New Year.
"A very special day leading up to Christmas, which completed some patients day as so many of them are on their own. It really delivered a wonderful treat to patients who may not see next Christmas".

St Columba's Hospice, Edinburgh
Christmas Card Collection 2018
We are delighted to be able to present our festive and music-themed selection of Christmas cards available from Music in Hospitals & Care this year.
Sending a Music in Hospitals & Care Christmas card to your family and friends is a great way to help us share the joy that live music brings to so many people residing in healthcare settings over the festive period.