A4 Brass quartet have been visiting Lancasterian special school in Didsbury to take part in weekly music sessions with a group of five Multi-Sensory Impaired children.
These sessions have been important for the children, as Multi-Sensory Impairment can feel very isolating. We are so pleased with how well this pilot project has gone and how much the children seem to be getting out of it.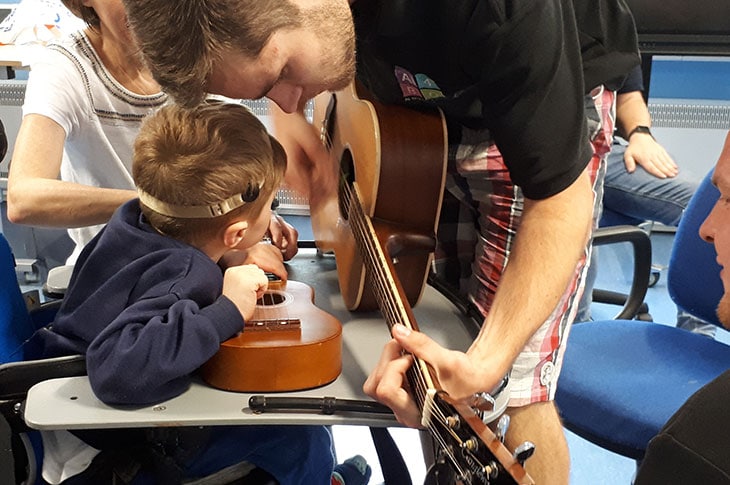 The sessions, which have been running since January 2019, are part of a pilot with Manchester Sensory Support Service (MSSS) to provide interactive music sessions for children of various ages that could benefit from an interactive session away from their usual class group.
Funded by the Oglesby Trust, the project focuses on encouraging anticipation, interaction, communication and self-awareness. The music is used to give the children opportunities to feel in control, empowered and to demonstrate preference and choice, whilst learning new signs and stimulating their senses.
After coming round to each child in turn to play a welcome song, the quartet begin by playing a monophonic melody. The warm sound of the brass instruments creates a very relaxing atmosphere in the room. The musicians play a variety of melodies and improvise on the same theme or sounds, allowing the children to hear the different range of the instruments and become more familiar with the musical phrases. They also play games and one child, despite experiencing both hearing and sight loss, is able to sign to them to increase or decrease the volume and ask them to play different pieces of music to match her mood.
Keeping Aleks' attention was quite difficult during the first few sessions as he often fell asleep. After a few weeks, he became interested in the ukulele and played on the strings throughout the session. He now claps his hands and repeats the rhythms played by the musicians. In the last session before the end of term, he spontaneously signed 'more' on three different occasions, which was a surprise to staff. Aleks also keeps his BAHA (Bone Anchored Hearing Aid) on throughout the sessions despite continually removing it throughout the rest of the day. His intervener has said this is because he wants to be able to experience the music as much as possible.
Moein clutches the instruments for full vibro-tactile stimulation – he likes to place his mouth on the bell of the brass instruments and feel the music through his chest. He also puts his arms inside. He laughs when he feels the low notes of the euphonium and asks the musicians to continue playing by tapping on the bell. Moein moves his head, then his entire body to the rhythm of the music, which is particularly remarkable to the sensory support staff. His intervener has also noted that he has started to locate the sound in the room and recognise the goodbye song that signifies the end of the session; he is always upset when it finishes.
"These sessions have been important for the children, as Multi-Sensory Impairment can feel very isolating. We are so pleased with how well this pilot project has gone and how much the children seem to be getting out of it. The deep vibrations of the brass instruments work really well and get a great response. But, as we have discovered with Aleks, string instruments are also popular. So that could be something to explore further in the future. There have been some amazing developments witnessed in just over six months of the sessions. As A4 Brass go back to the school for the new academic year, we are looking forward to seeing how the children progress." – Jess Ingham, Director North, Music in Hospitals & Care